Thank you for being part of the ministry of church of the living hope!
New! Donate your tithes/offerings through e-Transfer. Please review the details further below on ways on how to give.
Place cash or cheque inside an offering envelope with the form filled out. 
As an act of worship, we regularly return to the Lord a portion of our income for the work of His kingdom through our local church. The divine guiding principle for giving, as seen in the Scriptures, is the tithe (ten percent). An offering is what we voluntarily give to the Lord above and beyond the tithe.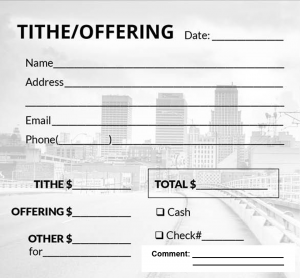 What you need to start
To send an Interac e-Transfer via Online Banking, you need:
To be enrolled in  your Online Banking
The email address or mobile phone number of the person you are sending money
Exact steps vary by individual bank or credit union, but the process will always be simple.
Just log into your online bank account

Select the account you want to send money from.
Choose INTERAC e-Transfer in the To drop down menu.
Enter the dollar amount you want to send in the Amount field.
Click Submit.
Add

Church of the Living Hope

as recipient and the email address is 

cotlh235@gmail.com

. Note: There's no need for a security question and answer, as the money will automatically be deposited into our account.
Please specify your giving in the in the message/memo section of your e-transfer (space is limited). For Tithes, or Missions or this Ministry etc."

Review and Finish Transaction.
DONATION RECEIPTS – If you have not yet received your donation receipt, please contact the Church Finance Office at (204) 633-2230 or send an email to TweeT Basa at livinghope235@gmail.com